Certified Profes­sional for Software Architecture (CPSA®)
The CPSA® Advanced Level Module AGILA – iSAQB® Training Course in Agile Software Architecture
MODULE AGILA
Agile Software Architecture
How do you accom­plish effective architecture work in agile teams and projects? What changes in the architecture disci­pline through the influence of agile principles, agile process models, and agile values?
Credit Points for AGILA Training Courses
Techno­logical Competence
Tech
Methodical Compe­tence
METHOD
Commu­nicative Competence
Comm
Content of the module Agile Software Architecture (AGILA)
How to accom­plish effective architecture work in agile teams and projects
In this AGILA module, the partic­i­pants learn how to design, develop, and further develop software systems and archi­tec­tures in accor­dance with agile principles. On the one hand, the module covers the appli­cation of agile principles and concepts to architecture work, and on the other hand expedient anchoring of architecture practices in an agile approach.
The devel­opment of archi­tec­tures in projects with self-suffi­cient teams or shared respon­si­bil­ities demands new skills and capabil­ities on the part of devel­opers and archi­tects. These in turn cover technical as well as methodical and also commu­nicative aspects, which are addressed here all theoret­i­cally and in practical exercises.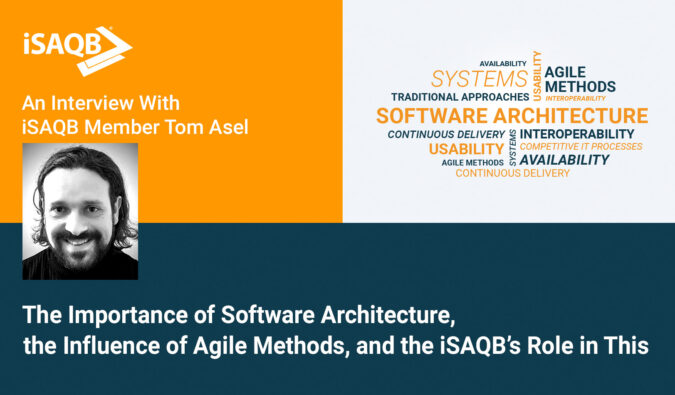 Tom Asel is an iSAQB member and the founder of tangible concepts. He has been working as a developer, architect, and trainer in software devel­opment for over 15 years. Agile architecture work is a focus of his profes­sional activ­ities. He supports teams and organi­za­tions in aligning devel­opment processes, skills, technologies, and archi­tec­tures. We talked to…
Frequently Asked Questions
There are currently no FAQs for this topic. Please check out our FAQ page for more FAQs.