Certified Profes­sional for Software Architecture (CPSA®)
The CPSA® Advanced Level Module EMBEDDED – iSAQB® Training Course in Embedded Systems
MODULE EMBEDDED
Embedded Systems
How do you develop safety-relevant embedded systems? With hard real-time and functional safety, the curriculum covers central topics for the devel­opment of embedded systems in a regulated environment and also addresses inter­ac­tions between software and system architecture.
Credit Points for EMBEDDED Training Courses
Techno­logical Competence
TECH
Methodical Compe­tence
Method
Commu­nicative Competence
Comm
Content of the module Embedded Systems (EMBEDDED)
How to design embedded systems that have a direct impact on their environments
As systems that directly influence their environment, embedded systems present software archi­tects with special challenges: functional safety plays just as important a role as the fact that embedded systems usually have to meet real-time requirements.
Topics such as system and software devel­opment for embedded systems and the role of software architecture within these processes as well as variant management are also dealt with in the EAM module.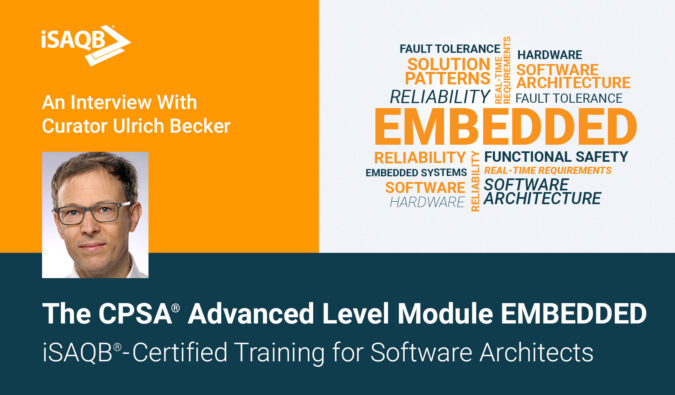 The iSAQB's multi-level CPSA scheme, short for Certified Profes­sional for Software Architecture, is a program of further education. It is aimed at IT profes­sionals who work on solution struc­tures. At Advanced Level, the second step of the CPSA program, partic­i­pants can choose between 17 modules – and one of them covers the topic of embedded…
Frequently Asked Questions
There are currently no FAQs for this topic. Please check out our FAQ page for more FAQs.