Certified Profes­sional for Software Architecture (CPSA®)
The CPSA® Advanced Level Module SOFT – iSAQB® Training Course in Soft Skills for Software Architects
MODULE SOFT
Soft Skills for Software Architects
Which compe­tencies besides technical know-how and hard skills do software archi­tects need in practice? This module teaches recipient-oriented commu­ni­cation skills, moder­ation of challenging groups, and conflict resolution skills in order to commu­nicate with various stake­holders involved in IT projects.
Credit Points for SOFT Training Courses
Techno­logical Competence
TECH
Methodical Compe­tence
METHOD
Commu­nicative Competence
COMM
Content of the module Soft Skills for Software Archi­tects (SOFT)
How can software archi­tects lead and moderate discus­sions on architecture deter­mi­nation and present their architecture in a compre­hen­sible manner?
Archi­tects need soft skills in their day-to-day work. They are contin­u­ously in contact with stake­holders, requirements engineers and devel­opment and quality assurance staff. They make design decisions based on information obtained from many different discus­sions, held with people with a wide range of interests. In this area of potential conflict, they must be able to identify the relevant important content for the decision to be made, and to present it in detail.
Making this decision together with the team and explaining it to others in a motivating and under­standable way is another challenge. Human traits are often an obstacle to objective commu­ni­cation, with the result that misun­der­standings and sensi­tiv­ities can hinder the decision-making process and smooth cooper­ation, and that conflicts can easily develop. This course specif­i­cally addresses the typical work situa­tions of archi­tects in this context as the "hub of the wheel", and provides pragmatic tools for enriching one's own set of soft skills and appro­pri­ately construc­tively coping with the challenges of an architect.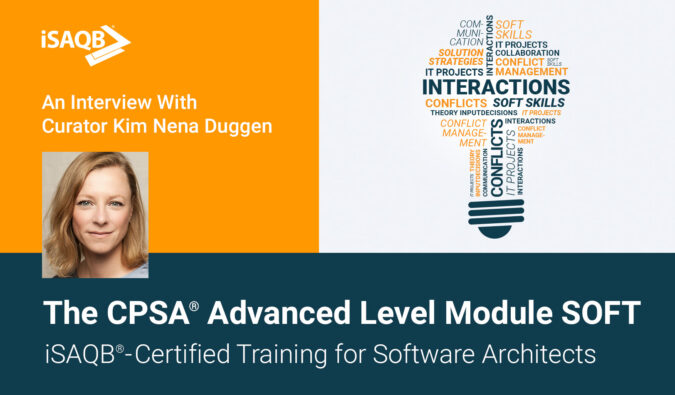 The CPSA Advanced Level is the second step within the iSAQB's multi-level CPSA program (Certified Profes­sional for Software Architecture). Partic­i­pants can choose from 17 trainings, so-called modules, in three areas of compe­tence – techno­logical, methodical, and commu­nicative compe­tence. The most important training when it comes to commu­nicative compe­tence is the Advanced Level module SOFT (Soft…
Frequently Asked Questions
There are currently no FAQs for this topic. Please check out our FAQ page for more FAQs.